Teen Mom 2 Star Doesn't Vaccinate Her Sons Because Of Netflix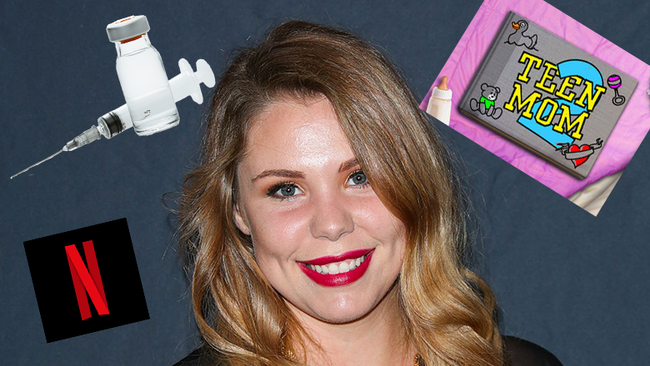 Kailyn Lowry made a name for herself in 2010 when she starred on the MTV series 16 and Pregnant , before having her baby and going on to appear in the spin-off show, Teen Mom 2 . Since then, Kailyn has had two other kids and is now mom to nine-year-old Isaac , five-year-old Lincoln and 18-month-old Lux . She talks about raising them on her podcast, Coffee Convos , but something she said on a recent episode has gotten her a lot of backlash.
When asked for her opinion on if kids should be vaccinated, Kailyn responded:
"I definitely think this is a controversial topic, and I don't want to lose listeners because of my opinion — but, I did vaccinate Isaac, because to me, I didn't know any better, and I gave — I let them vaccinate him with whatever they basically said that he needed. And I feel like I was ignorant, and didn't do research, and didn't know any better."
Kailyn then explained why she changed her ways when it came to inoculating:
"With Lincoln, I knew a little bit more, and I started to research more, and that's when I think the conversations of vaccines started to really be going on with me and my friends that became moms. And there were documentaries on Netflix, and all kinds of, just, news that I would try to look into. Lincoln did not get all of his vaccines. I definitely picked and chose which ones I felt like were necessary, and he did not get them all at once."
Lowry hasn't had her youngest son vaccinated at all, and that's not likely to change. She explained, "He hasn't ever really been sick, and for me, I just think the more research that I do, and the more educated I've become, I just don't vaccinate him."
Kailyn asked her listeners not to judge saying that she doesn't judge anyone who chooses to vaccinate, noting, "You're a parent, you know what's best for your child, and I'm not here to judge."
Not surprisingly, people did judge and Lowry has since responded, telling In Touch , "I mean, I guess the only thing I can really say and continue to stand for is to parent how it's best for your child and family. People don't love everything I do but I don't shove my beliefs down anyone else's throat. I know what's best for my kids and other parents know what's best for theirs."
Hear her entire podcast here .
Photo: Getty Images